Take a Break: 14 Best Hot Springs in Victoria
Are you looking for ideas for a relaxing weekend away? We've got the perfect excuse for a getaway. Why not visit one of the best hot springs Victoria has on offer? We are so lucky here in Melbourne that we have beautiful hot springs on our doorstep and further afield in regional Victoria. 
We've curated this list of stunning Victorian hot springs that are a little further from the city, so you can start planning your next relaxing escape! We've also included some hot springs a little closer to home, so if you only have time for a day trip, we've got your list of hot springs in Melbourne covered too!  There's nothing nicer than bathing in the therapeutic mineral waters of a natural hot spring. Come and soak and unwind with us.
Hot Springs in Victoria
Less than 90 minutes from Melbourne, you can find the award-winning Peninsula Hot Springs – a natural geothermal mineral springs and day spa facility.
The Mornington Peninsula day spa offers one of the best hot springs in Victoria. Natural thermal mineral waters flow into the numerous pools and private baths, including a stunning hilltop pool with 360-degree views. Some of the location's offerings include a social bathing area called the Bath House, a blissful sanctuary called the Spa Dreaming Centre, a moonlit bathing experience, and so much more!
Peninsula Hot Springs, 140 Springs Lane, Fingal, (03) 5950 8777
For a traditional wellness bathing experience, head to the historic Hepburn Bathhouse where you can enjoy mineral-rich waters taken directly from the natural source. The bath house has been helping to heal and relax visitors since they first opened their doors in 1895.
Hepburn Bathhouse also offers an array of mineral wellness experiences such as the 100% pure private mineral baths and a selection of specifically designed wellness packages.
Hepburn Bathhouse, Mineral Springs Reserve Rd, Hepburn Springs, (03) 8727 8901
While it is a bit further than a day trip from Melbourne, the Deep Blue Blue Bath House & Day Spa is a wonderful spot to relax and rejuvenate if you're in Warrnambool or travelling along the Great Ocean Road.
The spa offers a variety of indulgent spa journeys that are designed to help you enter a deeper sense of relaxation, healing and balance.
Deep Blue Blue Bath House & Day Spa, Worm Bay Road, Warrnambool, (03) 5559 2000, reservations@thedeepblue.com.au
If you can't travel to Japan, let Japan come to you for an onsen Melbourne experience.
Japanese Mountain Retreat Mineral Spring and Spa is designed to give visitors a traditional Japanese ryokan experience. The luxury accommodation and private bathing aim to provide you with a sense of relaxation, balance and harmony during your stay.
The Dandenong Ranges location means it's close enough to Melbourne for a quick escape but far away enough from the hustle and bustle of the city that you can really appreciate the natural surroundings and Japanese architecture and designs.
On top of this, the spa also offers a Moroccan Spa and Roman Bathhouse experience.
Japanese Mountain Retreat Mineral Spring and Spa, 14 Mountain Crescent, Montrose, (03) 9737 0086, info@japanesemountainretreat.com.au
East Gippsland's thermal baths are found in the sleepy fishing village of Metung.
From mid-2022 you'll be able to soak in seven hot spring pools, two cold plunge pools, geothermal showers, a reflexology walk, relaxation lounges and drones. Enjoy sweeping views of the Gippsland Lakes and a freshwater lagoon as you explore the trails around the 12-hectare site. 
It's been opened in partnership with Peninsula Hot Springs so that you can expect the same level of comfort and service from the award-winning hot springs. 
Metung Hot Springs, 73 Storth Ryes Avenue, Metung, (03) 5141 2300, info@metunghotsprings.com
Mark your calendar! In late 2022 Alba Thermal Springs & Spa is opening in an expansive 15-hectare space with luxury bathing experiences, spa treatments and wellness rituals.
There will be indoor, open air and outdoor treatment rooms and bathing pools boasting a uniquely modern bathing experience.
The property will also be home to a 120-seat restaurant called Thyme, featuring an all-day Mediterranean-inspired menu of local, seasonal produce created by Karen Martini. Enjoy your meal on the rooftop terrace and soak in the serenity.
Alba Thermal Springs & Spa, 282 Browns Road, Fingal, (03) 5985 0900, marketing@albathermalsprings.com.au
Onsen Melbourne
Sense of Self renovated a Collingwood warehouse into a modern bathhouse, massage and mindfulness studio in March 2021, and it has been popular ever since. 
Enter through a heavy rusted door and be transported to a Mediterranean paradise. Every detail has been meticulously chosen to enrich the experience and transport you to a tranquil oasis. From the soft colours of the flowing curtains and upholstery to the striking brass highlights of the tapware and waterfall (yes, waterfall!) Sense Of Self is a truly immersive experience.
Sense of Self, 30-32 Easey Street, Collingwood, (03) 9917 5412, hello@sos-senseofself.com
Japan has a long tradition of public bathing houses and you can experience a slice of that in Collingwood.
Japanese Bath House is a wonderful and relaxing experience that allows you to unwind, detox, and de-stress in an intimate and yet shared setting (genders are separated). The onsen's heated mineral water helps to cleanse your body while revitalising your mind, body and soul. 
Japanese Bath House, 59 Cromwell St, Collingwood, (03) 9419 0268, ofuroyabooking@gmail.com
What could be better than soaking in a hot mineral spring after a big day on the slopes?
Dinner Plain is the ideal location for the Onsen Retreat + Spa where you can enjoy a Japanese-inspired, 38-degree outdoor Onsen, surrounded by the beauty and serenity of Victoria's Alpine region. 
There is also an indoor pool, gym, sauna and indoor spa and therapeutic treatments for a complete well-being experience. 
Onsen Retreat + Spa, Big Muster Dr, Dinner Plain, (03) 5150 8880, info@onsen.com.au
Victoria Spas and Hot Springs Coming Soon
The Cape Kitchen restaurant is creating a brand new hot spring bathing called Phillip Island Hot Springs which will be located within the complex in Phillip Island as part of the restaurant's extension.
Expected to open sometime in 2022, the 10 million dollar project is said to feature 45 baths which will include reflexology wading pools and deep hot water baths, a day spa, personal treatment facilities, a reception area and, of course, the existing Cape Kitchen.
11. 12 Apostles Hot Springs and Resort
Sitting on a natural geothermal water resource is the 12 Apostles Hot Spring – a sustainable and renewable hot spring and resort location that aims to boost the region's economy by attracting more tourists and workers.
The 200 million dollar eco-friendly project will be Australia's largest bathing and spa operation by far and will include facilities such as 150 eco-accommodation pods, a public amphitheatre, a diner, restaurant, cafe and more.
Set within a breathtaking location, Nunduk Spa Retreat will soon be a luxury hot spring spa retreat that uses regenerative and sustainable principles to address the three pillars of sustainable development to provide positive environmental, social and economic outcomes.
The current development is using a touch lightly approach to preserve significant and valuable habitats and the regeneration of areas to create a land with improved ecological value.
It's an exciting eco-friendly resort that we can't wait to experience.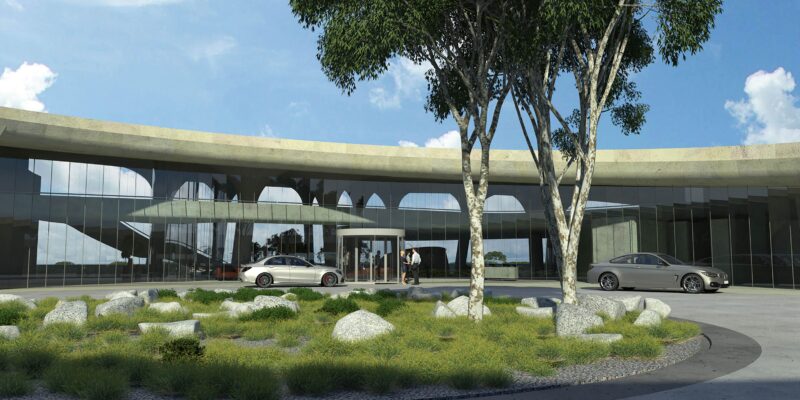 Set within Alcoa's former mine site in Anglesea, Victoria, is the Eden Project. Currently, a concept for a world-class eco-tourism attraction, the Eden Project plan is to transform the area into a destination for immersive education and experiences. The goal of the project is to celebrate the local ecology and tell a story of sustainability.
Though it is unsure when the project might be finished and available for public use, the Eden project has already begun ongoing engagement with the local community and government for feedback and concerns and has already completed the first stage of the groundwater pumping test to investigate using groundwater to fill the mine void.

Hoping to capitalise on the benefits of the high-quality mineral water resource in Geelong is the upcoming Geelong Mineral Spa – a Mineral Spa and Wellness Centre project made in partnership with the State Government through Regional Development Victoria and Tourism Victoria.
Though not much is known yet about the spa's offerings, the project is currently seeking a private developer/operator or consortium to invest approximately $20 million in order to build and operate the day spa, which will be located on the waterfront of Corio Bay.
---
---