17 Best Hot Cross Buns in Melbourne – Order For Pick Up & Delivery!
Hot cross bun season is here and nothing says Happy Easter like a good hot cross bun!
With the many options available around Melbourne, it can be tricky choosing the best ones for your Easter celebration. That's why I've decided to help by creating this post where I've compiled all my favourite places that offer traditional buns, delicious chocolate-filled buns and other kinds of hot cross buns that bring in the Easter spirit.
So without further delay, here's a list of Melbourne's best bakeries that are offering delicious hot cross buns, hot cross bun preorders and even hot cross bun home delivery services. Hop to it!
When is Easter 2023?
Easter is on Friday 7 April to Tuesday 11 April 2023.
Table of contents Best Hot Cross Buns Delivery
Hot Cross Buns Melbourne
Rustica Sourdough have branches in Melbourne CBD, South Yarra, Hawthorn and Maribyrnong (Highpoint Shopping Centre) and all of their stores are offering traditional or chocolate hot cross buns.
It costs $21 for a half dozen traditional hot cross buns and $23 for a half dozen dark chocolate hot cross buns.
AND…you can even order hot cross bun DONUTS! They're made of spicy Hot X Bun dough deep-fried then filled with vanilla and brandy creme with sultanas and currants then rolled in cardamom sugar and crossed with white chocolate (6 for $25).
These products are available for pickup only. Rustica Sourdough, various locations, (03) 9121 0500, Info@Rusticasourdough.com.au
Hotel Windsor is an iconic high tea destination in Melbourne and for Easter, their pastry chefs are making Hot Cross Scones!
The Windsor's hot cross scones contain cinnamon and ginger powder and are filled with sultanas and peel. The scones are sold as half a dozen and served with beautiful lemon curd and double cream as a pack. You can also purchase an extra container of the lemon curd (250g) and/or a tin of Windsor Blend Tea. Order by 5pm the day prior for next day pick up from The Windsor Concierge, 111 Spring Street, Melbourne, between 12pm and 7pm.
Hotel Windsor, 111 Spring Street, Melbourne, 3000
Traditionalists, look away, because hot cross baos are a thing and Din Tai Fung is the place to get them.
Each bao is a pillowy soft steamed bread bun filled with decadent molten chocolate. The Hot Cross Baos are available at all Din Tai Fung locations for a limited time. You can buy them for delivery frozen for $10 for 3 pieces.
Din Tai Fung, Emporium Shopping Centre, Level 4, 287 Lonsdale St, Melbourne VIC 3000
Best Hot Cross Buns Melbourne North
If you want goodies made with locally sourced ingredients, in a bakery playing beats from Melbourne DJs, head to Bread Club.
They have rich chocolate hot cross buns, or more traditional spicy hot cross buns and will be releasing preorders for the Easter holiday.
Bread Club, 558 Queensberry St, North Melbourne, 3051
Falco Bakery's traditional hot cross bun was recently declared by Broadsheet as the city's top hot cross bun – which is probably why it keeps selling out! They are $24 for a box of six.
You can order online so you don't miss out and pick up from their Collingwood store.
Falco Bakery, 288 Smith Street, Collingwood, 3066
Fitzroy North bakery and patisserie Cavallini is offering classic hot cross buns with vine-ripened fruit and aromatic spices. They're made fresh every morning by the team.
Cavallini, 354 Queens Parade, Fitzroy North, 3068, 03 9486 3883
Northcote bakery All Are Welcome are delivering hot cross buns and other baked goods in Clifton Hill, Northcote, Thornbury, Brunswick East, Fitzroy North, Clifton Hill, Preston, Fairfield and Alphington.
Delivery is $5 for orders over $20 or $10 delivery for orders under $20, with delivery available on Fridays, Saturdays and Sundays (or pickup also on Friday, Saturday and Sunday). You need to place your pre-order by 2pm the night before.
All Are Welcome, 190 High St, Northcote, 3071 and 887 High Street, Thornbury, VIC 3071
Loafer Bread are well known for their sourdough hot cross buns, with plump fruit and house made candied citrus.
A half dozen hot cross buns costs $20 and you can preorder online. Loafer Bread offers free delivery for orders over $50 to postcodes 3068, 3057, 3054 and 3070.
Loafer Bread, 146 Scotchmer St, North Fitzroy, 3068, 03 9489 0766
Wild Life Bakery is offering two types of hot cross buns this year!
First are the Hot Cross Buns Traditional which are packed with raisins, sultanas, currants, and candied peel and the second are the Chocolate Sour Cherry Hot Cross Buns that are filled with sour cherry and Dominican Republic chocolate 'chips'!
These hot cross buns come in a box of 6 and are $27 per box.
Wild Life Bakery, 90 Albert St, Brunswick East, (03) 8060 0547
CERES Fair Food is an organisation that supports regenerative farming practices, provides employment and career pathways for new migrants and returns 100% of profits to CERES environmental education programs.
They also deliver organic groceries to households across Melbourne and for Easter this year, they want to bring the best hot cross buns to your homes!
Check out their Dench Easter Hot Cross Buns Chocolate Orange, Dench Easter Hot Cross Buns Traditional Fruit, or the Gluten Free Precinct Hot Cross Buns which are all made with top-quality ingredients, delicious and are just the very best!
CERES Fair Food, 20 Water Rd, Preston, 3072, 03 8673 6288, info@ceresfairfood.org.au
Brunetti Classico is an authentic Italian Pasticceria supplying Melbournians with arguably the best coffee, cake, and savoury foods.
Choose from an individual or pack of 6 traditional or Nutella filled hot cross buns which can be delivered the next day to anyone within 50km of Carlton.
Brunetti Classico, 380 Lygon Street Carlton, 03 7034 7066, orders@brunetticlassico.com, ciao@brunetticlassico.com
Other store locations:
Melbourne Airport T4: Level 1, Domestic T4
Melbourne Airport T2: International T2, Melbourne Airport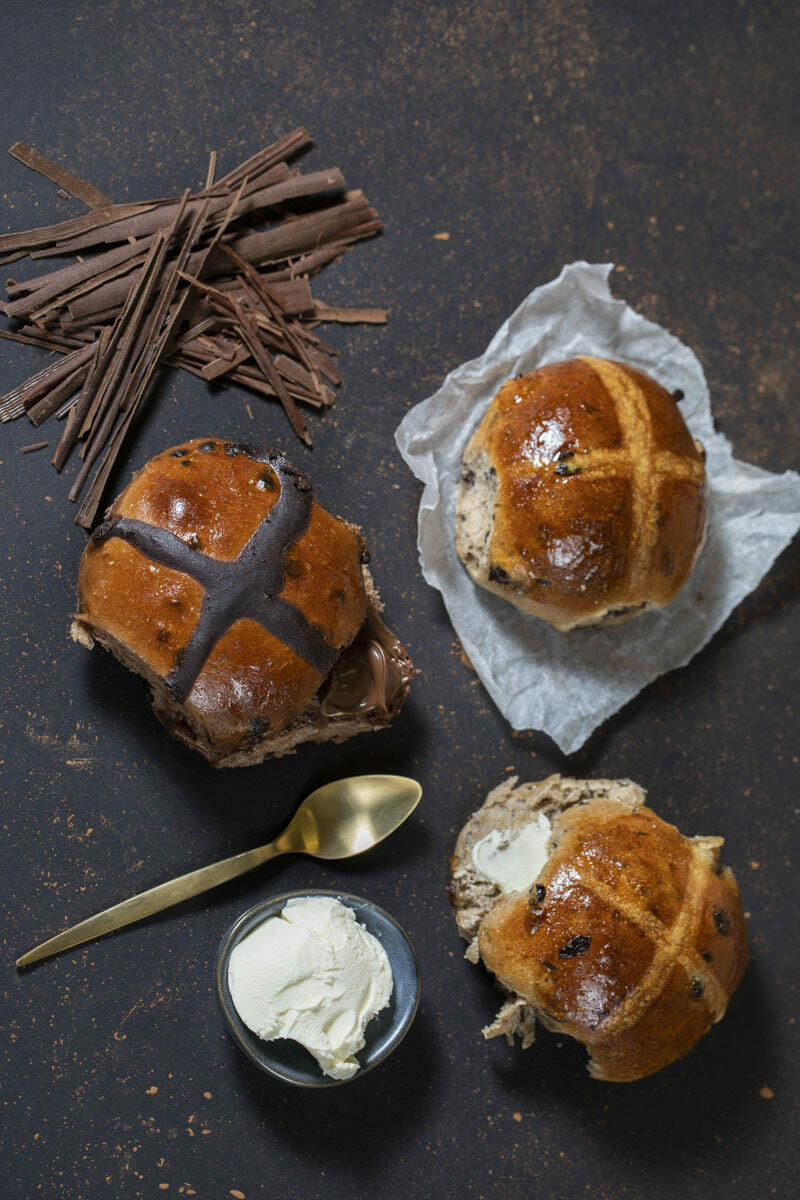 Hot Cross Buns Melbourne South and south-east
Home to the world's most Instagrammed cake (named as such by the New York Times for their Strawberry Watermelon Cake), Black Star Pastry have brought their hot cross buns to Melbourne.
Their vegan hot cross buns are glazed in frankincense syrup and achieve the perfect balance of spicy and sweet.
Order ahead to secure some of their limited production of buns, that can be collected from Chadstone Shopping Centre on the lower ground floor adjacent to Cotton On.
Black Star Pastry, 1341 Dandenong Rd, Chadstone, Kiosk 0105, (02) 9557 8656
Phillipa's offers a chewy, moist, aromatic bun made with organic vine-fruit, minimal yeast, slow fermentation, premium fresh spices and house-made candied peel from oranges sourced at the farmers' market, finished with a shiny glaze.
A box of six hot cross buns is $20.90 and can be purchased online for click and collect from their Armadale, Brighton and Richmond stores. Selected Philippa's items are also eligible for Australia-wide shipping for a flat-rate of $9.95, free shipping for orders over $100.
Phillippa's 1030 High St, Armadale (03) 9576 2020
Phillippa's 608 Hampton St, Brighton (03) 9592 7340
Phillippa's 51 North St, Richmond (03) 9429 5098
Hot cross bun season has arrived and Millstone Patisserie has got you sorted with all your hot cross bun cravings!
Their hot cross buns are already up for pre-ordering and are available in packs of 6 for $24.00 and in packs of 12 for $48.00.
Both click and collect and delivery options are available. However, do note that for delivery, orders must be placed 72hrs prior and have an extra fixed cost of $30.00 on top of your initial order. Additionally, the delivery times are from 11 am until 5 pm.
Millstone Patisserie 10a Claremont Avenue Malvern, (03) 7038 0645,
Melbourne Hot Cross Buns online – melbourne West
Cobb Lane once only sold to wholesale customers but they've recently opened up their Yarraville kitchen for a pop-up bakery (open Friday, Saturday and Sunday 7am until 12pm) and an online store as well as a store at the South Melbourne Market, The Melbourne Airport (Terminal 2) and at Richmond Traders in Richmond.
These buns are fluffy and fruity with just the right amount of citrus peel and a sticky, spiced orange glaze. Half a dozen hot cross buns are $22.
For orders of $50 or more, you get free delivery in the inner west, outer west and Melbourne CBD. Other suburbs are by arrangement only.
Cobb Lane, 1 – 3 Taylor St, Yarraville, 3013
Cobb Lane, Richmond Traders, T5, 261 – 271 Bridge Road, Richmond, 3121
Cobb Lane, South Melbourne Market, Stall 42, 322-326 Coventry Street, South Melbourne, 3205
Cobb Lane, Terminal 2, Melbourne Airport
Candied Bakery in Spotswood are well known for their excellent bread and delicious cakes, pies and donuts. They also make a delectable hot cross bun and a custard-filled hot cross donut too! Their hot cross buns contain Aussie fruit, spices, oranges, free-range eggs and love.
Hot cross buns are $19.50 for a half dozen and it's best to pre order to avoid disappointment.
Candied Bakery, 81A Hudsons Rd, Spotswood, 3015, 03 9391 1335
Motte is a Yarraville bakery that's offering something a bit different – a savoury hot cross bun with sharp cheddar, gouda and provolone.
For those with a sweet tooth there's a pandan and coconut hot cross bun.
Hot cross buns are $30 for a half dozen.Motte, 15/131 Hyde St, Yarraville, 3013
Bakers Delight is a bakery that's been delighting its customers with the best bread and pastries ever since its doors opened in 1980.
This year they're got four choices of hot cross buns for you to choose from! Complete your easter feast with their Hot Cross Bun Traditional, Hot Cross Bun Choc Chip, or Hot Cross Bun Apple & Cinnamon!
You can have these sweet buns delivered to you via Uber Eats or Menulog
Bakers Delight, various locations, 1800 325 325, customer.relations@bakersdelight.com.au
---
---